Forget about Database Explorer!
Of course, it's just a joke, but in every joke there is a grain of joke. Remember how many times you wished you never saw Database Explorer again, switching from the SQL script each time to view a required database object. It is really inconvenient to search database objects mentioned in the script using Database Explorer.
Your way out is one-click access to definitions of schema objects and variables from the script. Right-click an object in your code and select the Go to definition option (defaultshortcutF12) from the menu.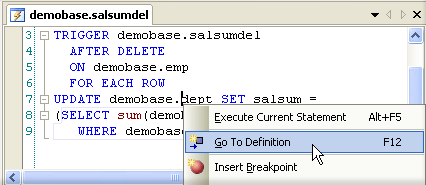 The object editor or a corresponding DDL script will open in another window.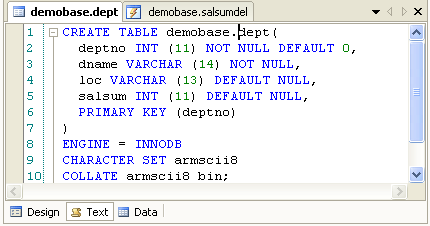 Use the same option to navigate to a required object or definition within a script. For example, you will breathe freely moving with lightning speed to alias declarations in complex expressions or to object declarations in the script. For speedy navigation in large scripts use the Navigation bar at the top of the document or the DocumentOutline window.
One Response to "Forget about Database Explorer!"
LindaKaas Says:
July 23rd, 2009 at 11:12 pm

Great idea, thanks for this tip!
Leave a Comment

---