Migration from OracleClient to Devart dotConnect for Oracle in Two Steps
September 7th, 2009
According to this post in the ADO .NET team blog, Microsoft deprecates OracleClient as a part of ADO.NET roadmap. Microsoft strongly recommends customers to use  third-party ADO.NET providers for Oracle  instead of continuing to use Microsoft's OracleClient for new application development.
Devart offers dotConnect for Oracle – fast and reliable ADO.NET provider for the wide range of users. Our ADO.NET provider is the most compatible with OracleClient provider, and it provides the easiest migration from OracleClient. It allows you to migrate easily without effort.

We have researched problems, which users may encounter when migrating from OracleClient to dotConnect for Oracle:
Interface differences
Almost all differences in the names of the classes, methods, and fields between OracleClient and dotConnect for Oracle were removed. Migration Wizard will solve the problems with the minor differences that still exist.
Behavior differences
We have thoroughly researched the OracleClient provider behavior and compared it with the behavior of our provider. We also have adopted our autotests to the OracleClient and gained their successful execution. All the behavior differences were eliminated, and now you can switch the dotConnect for Oracle to the compatibility mode with OracleUtils.OracleClientCompatible variable.
Migration
Our Migration Wizard makes the migration from the OracleClient to dotConnect for Oracle as easy as the two following steps:
Open the Migration Wizard by choosing Migration Wizard from the Tools -> Oracle menu and in the appeared wizard click the Next button. Then choose the provider to convert from and whether to convert entire solution or the active project only and click Finish.
Then you may compile and use your project.
Example
We created an example for such migration from the MSDN code samples.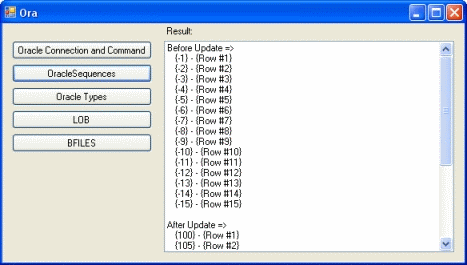 The sample project can be downloaded here. Then we used the Migration Wizard to migrate this project from OracleClient to dotConnect for Oracle, and inserted OracleUtils.OracleClientCompatible = true into the code. Everything works in the same way as before the migration. Migrated project can be downloaded here.
Our Special Offer
If you have problems with migration, we will gladly answer all your questions about migration and help you to migrate on your source code.
Benefits
One can choose the best Edition of our provider to fit his or her needs. For example:
You don't need advanced functionality and you don't have money to spend – then free Express Edition is just for you. It offers functionality similar to the one of Oracle Client, it is free and easy to install. All you have to do is to place two assemblies in GAC.
You want to develop and deploy database applications with ease? – Get our Standard Edition with design time support, profiler for monitoring queries that are being executed in the application, and the ability to work without Client Software installed.
You want more advanced features, you need all the functionality Oracle can give? – Then Professional Edition with the newest Microsoft and Devart technologies implementation will put them at your fingertips! It implements the following advanced features:

Entity Developer – our own tool for building LINQ and Entity Framework models, functionality and convenience of which exceed those offered by the standard tools
SQL Server Business Intelligence Solutions

and much more…
You are not sure if you can rely on the quality of third-party components? With us you will get regular builds with fixes every two or three weeks and fast comprehensive support from our team that will help you resolve any issue.
dotConnect for Oracle may be downloaded here
Latest posts by dotConnect Team
(see all)
4 Responses to "Migration from OracleClient to Devart dotConnect for Oracle in Two Steps"

---