dbForge Studio for MySQL vs MySQL Workbench
October 30th, 2020
Every single year new products and new versions of the leading tools enter the market. Their providers compete, offering database specialists more and more features. Thus, users have a whole bunch of possibilities to achieve their goals with the best-fit solutions. The only challenge remaining is which tool to use.
MySQL Workbench is one of the most popular professional tools with thousands of loyal users. Still, dbForge Studio for MySQL is a worthy alternative to it, which, in many aspects, is superior in functionality. In the present article, we'll highlight the most critical differences between these tools.

The products are, in fact, pretty similar – both are powerful tools for MySQL management, administration, development, data analysis, and reporting. Both allow users to design databases, write code, track database elements, create EER diagrams, and much more.
Yet, there are considerable differences between MySQL Workbench and dbForge Studio for MySQL. They are related to performance efficiency and, mostly, to additional options that make all operations faster and less cumbersome.
As primary users of both products are database developers, DBAs, and analysts, it is worth considering the most relevant functionality for their specializations.
So let's consider the most useful features and tools that might come in handy.
Code Completion
It is no secret that code writing might be tiresome, especially when dealing with masses of routine tasks and code fragments. This is when automation becomes vital. Luckily, dbForge Studio for MySQL and MySQL Workbench offers the necessary code auto-completion features to simplify these operations and help avoid problems.
Both of the tools have a number of useful features, including code snippets and snippets managers, code completion with context sensitivity, and automated SQL syntax check. Above that, users can benefit from the numerous additional options in dbForge Studio for MySQL, such as formatting with extended options. It allows getting information about database and schema object definitions and renaming database objects on-the-fly. There is also full support for triggers and events.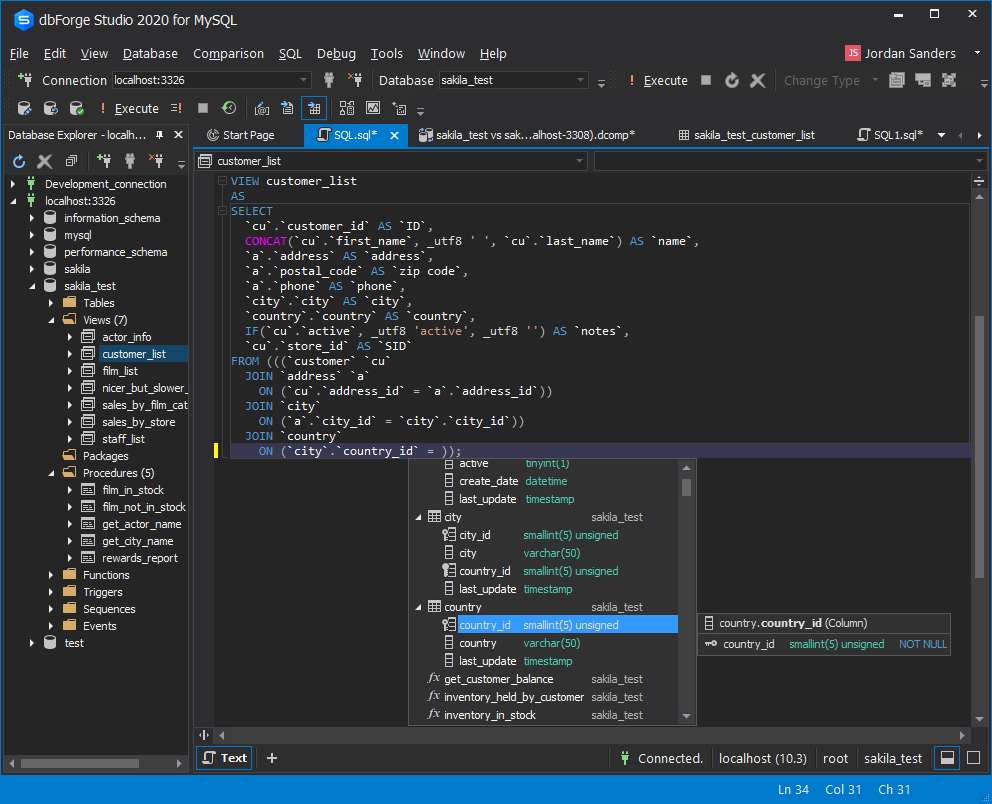 Code Formatter
Writing code is fundamental, and code formatting is necessary to make code clear and consistent with standards. The possibility to format code automatically is a great aid. With the proper rules set, the feature will style the code, saving the developer's time and effort.
Both products in question provide automated code formatting. They enable users to check SQL syntax, format the code and offer an advanced SQL editor that highlights the necessary code fragments.
dbForge Studio for MySQL provides additional options to facilitate the work of a database developer. For instance, a handy SQL Formatter wizard allows formatting SQL code in multiple files or folders simultaneously.
Query Builder
The Query Builder tool is one of the primary features coming by default. The functionality ensures that even the most complex queries are easy and provides the user with advanced options to deal with sophisticated data retrieval. Unlike dbForge Studio, Workbench doesn't have this functionality.
With dbForge, users can construct even the most sophisticated queries quickly and combine multiple subqueries into a main query. There are also such helpful options as making JOINs between tables, calculating totals for a dataset, grouping, ordering, and exporting data into multiple formats.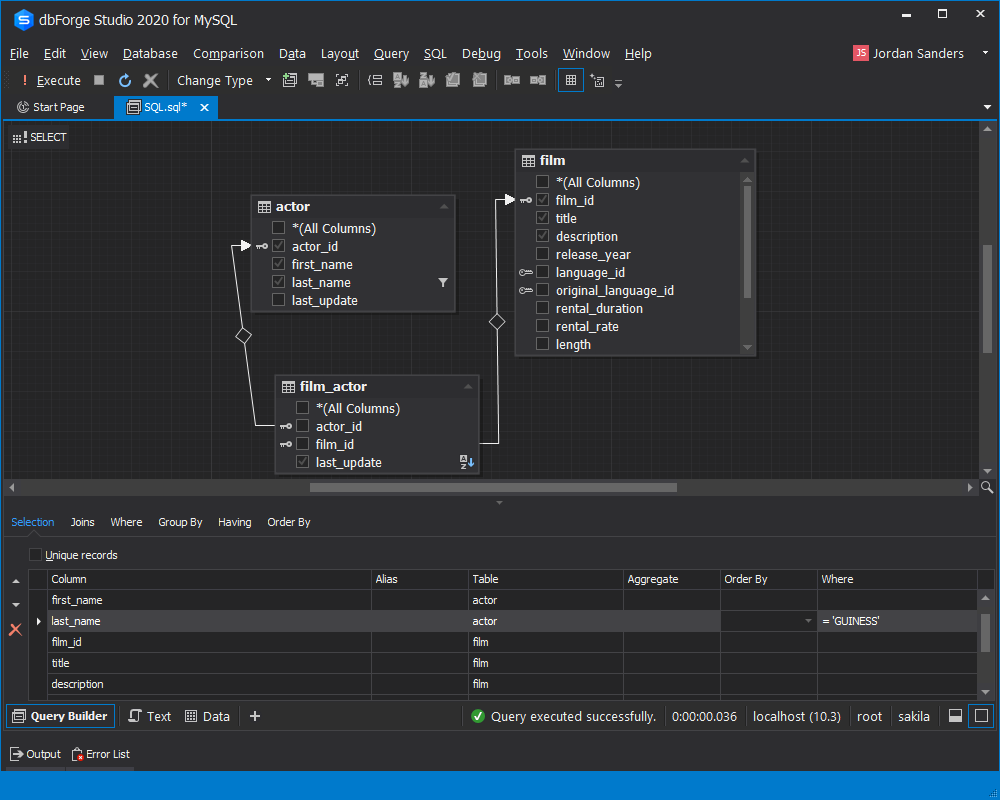 Debugger
When it comes to editing code at runtime, the debugging tool is of great value. Errors in scripts do take place. If not tracked and fixed, they diminish many hours of work. A proper debugging tool allows users to take away the necessity of tedious manual script testing.
dbForge Studio for MySQL can boast robust debugging functionality. Debugger examines the behavior of database objects and finds logic errors. dbForge tool supports the step-by-step execution commands and allows you to debug triggers, functions, scripts, and stored routines. Additionally, there is a "watches" window for variable evaluation, as well as many other helpful options. Again, there is no such functionality in MySQL Workbench.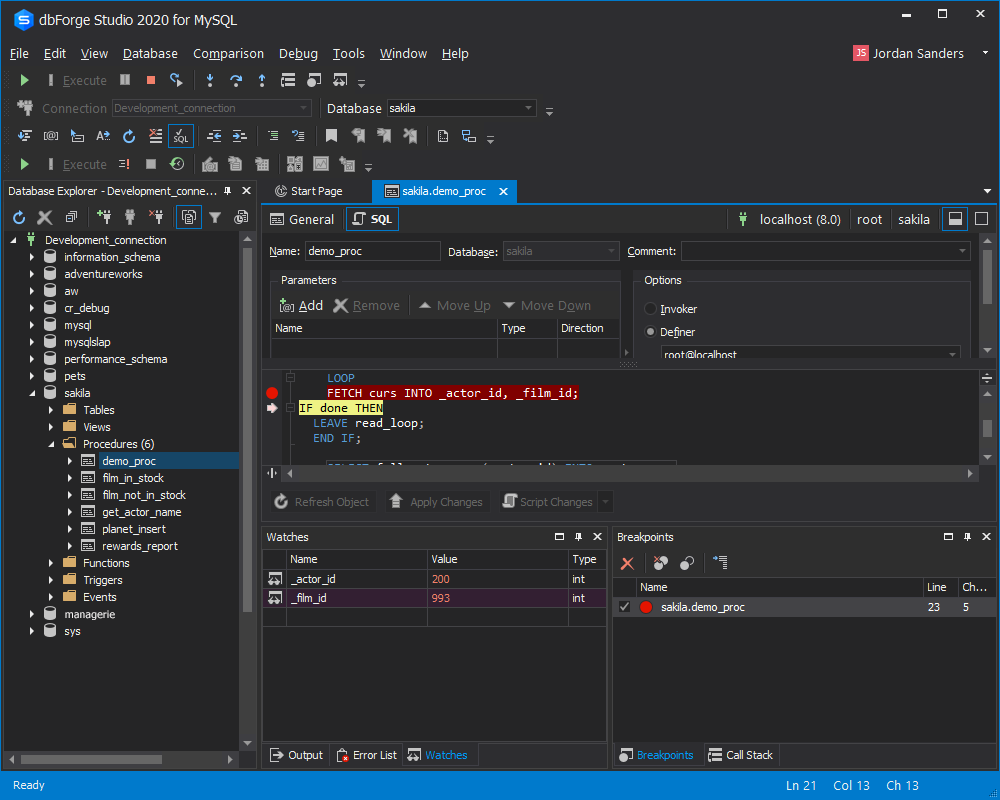 Refactoring
Database refactoring is necessary and almost inevitable when it comes to database schema modification. On the other hand, this task requires significant resources, especially for the databases under production. Both tools in focus have the necessary functionality and let their users perform this task. The difference is, with dbForge Studio for MySQL, you can automate this process better to save your time since the tool allows renaming various types of columns and objects that usually pose risk if not renamed.
Dependencies Search and EER Diagrams
Dependencies existing between tables and other database elements must always remain in focus. It is easier to track and check them in a visual form of EER diagrams. Users of both products have access to this functionality. Yet, dbForge Studio for MySQL provides the diagrams directly in the object explorer window. It makes looking up the necessary relation more convenient.
Now, let's take a look at another piece of functionality that is in high demand among database administrators. The primary option they need is the possibility to compare database objects.
Schema Compare
Schema comparison and synchronization operations are among the top requested by all users. Both tools provide dedicated utilities; still, dbForge Studio for MySQL allows a lot more options and better configurations than MySQL Workbench.
Assisted by the Schema Compare tool, a built-in element of dbForge Studio for MySQL, users get to work in a convenient interface and perform all the tasks with minimum effort. Among other helpful options, it is worth mentioning the "Save Command line" – an option that lets you save comparison and synchronization configurations as a batch file. With its help, you can automate scheduled tasks for comparison and synchronization.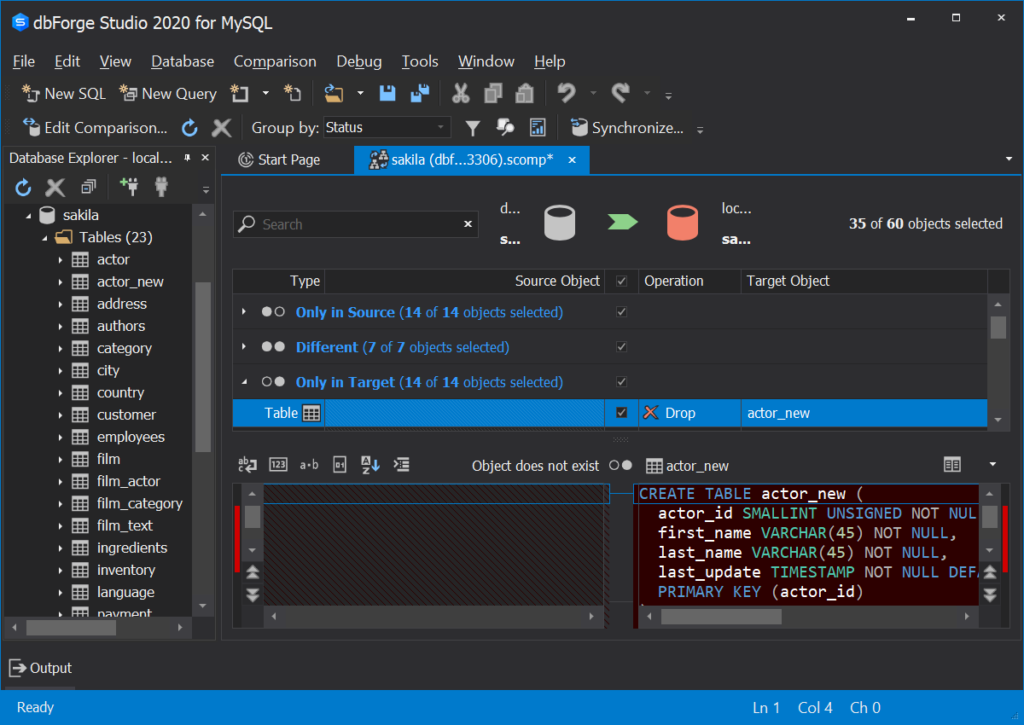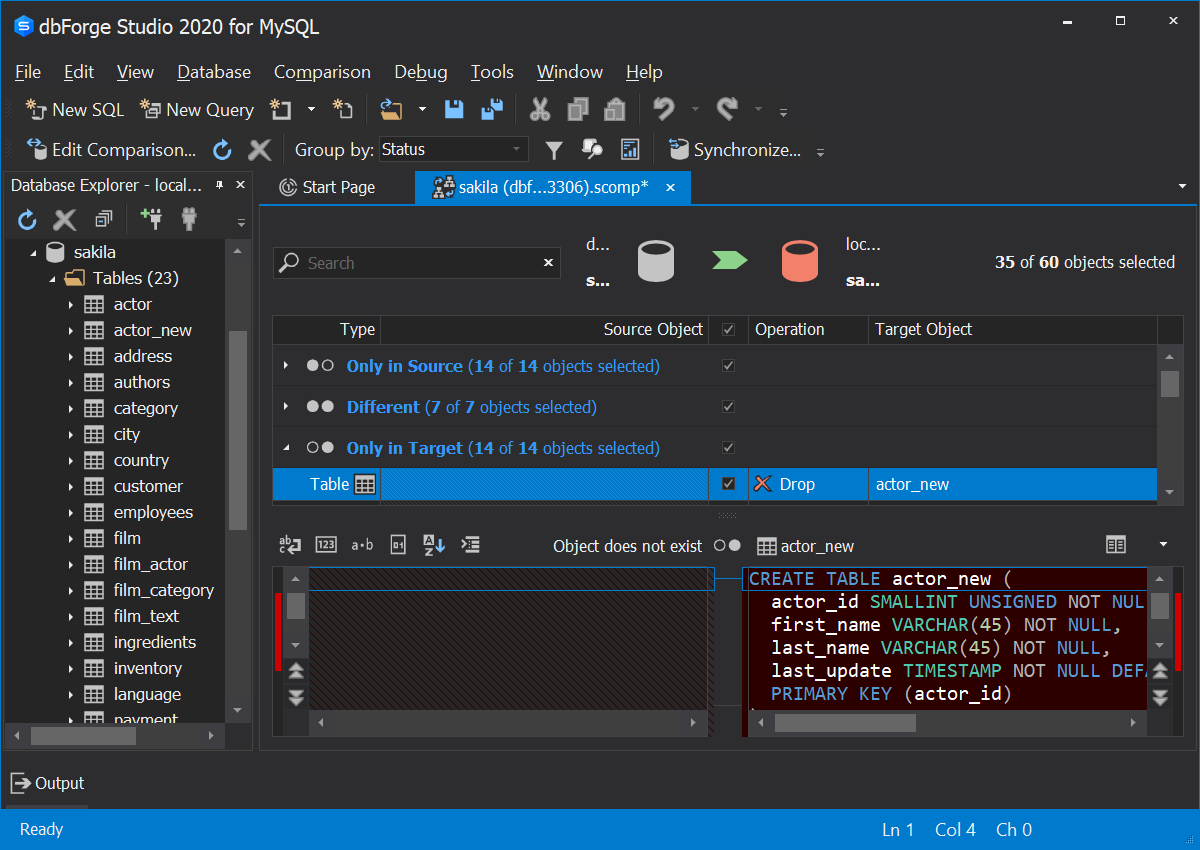 Data Compare
In this aspect, dbForge Studio for MySQL is on the winning side. Precisely because MySQL Workbench only lets the user compare and synchronize databases via Shell for MySQL Utilities. The dbForge product has a lot more extensive functionality.
First of all, the Studio tool allows generating scripts for data synchronization, checking the data differences per record, and saving and loading comparison settings. Besides, dbForge Studio for MySQL supports the command-line operations. It makes the job easier by automating the comparison and synchronization tasks. As well as that, you can benefit from the reports available in a number of formats, such as CSV, HTML, and Excel.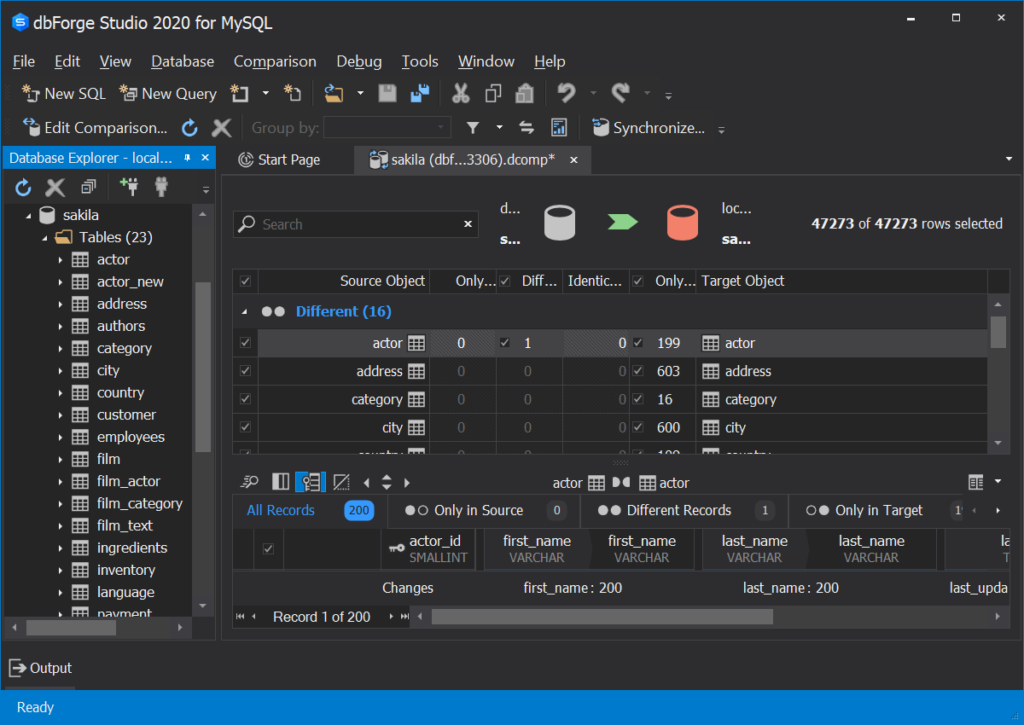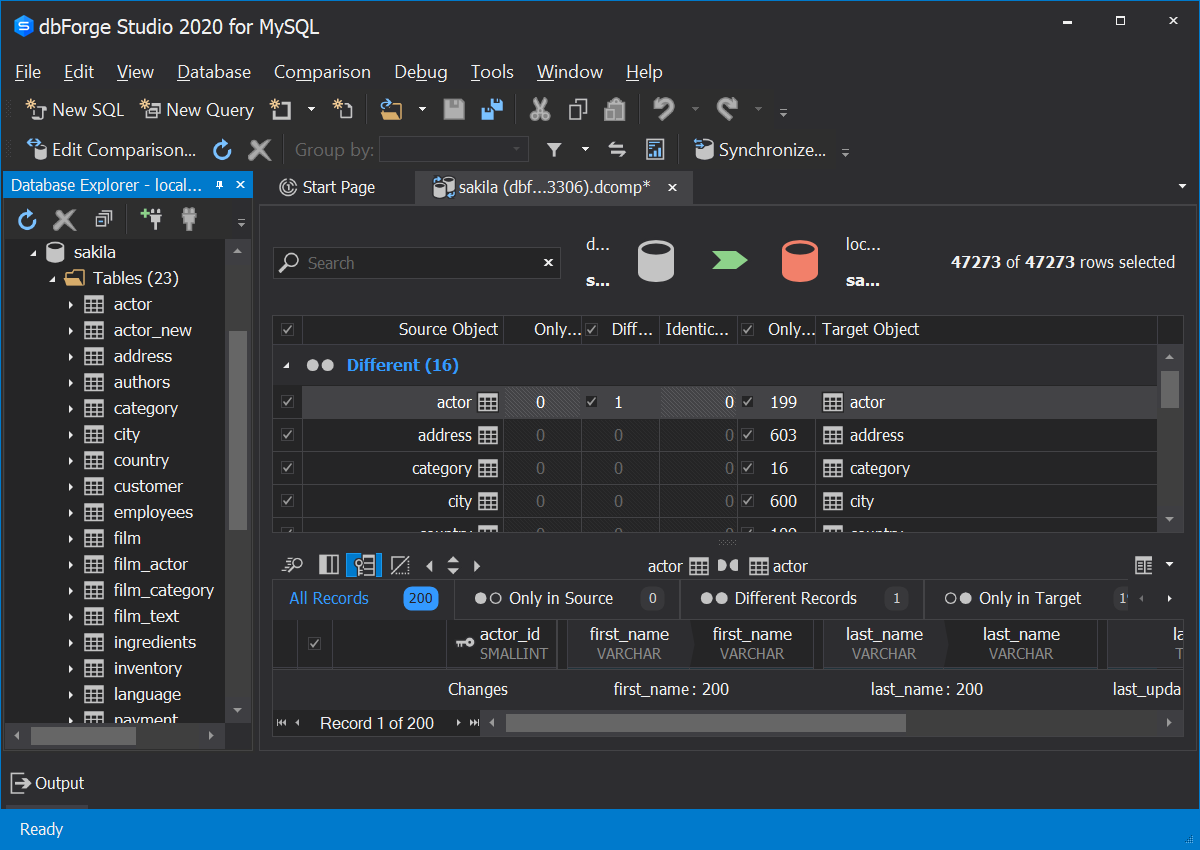 Developers may also reap the benefits of additional Enterprise features for data generation and database documenting. These tasks are performed quite often and might be tiresome; thus, the possibility to automate them saves database specialists precious time and extra effort.
Data Generator
The Data Generator tool is the solution that allows creating massive volumes of realistic test data. This option is an indispensable part of database testing and proper maintenance, and dbForge Studio makes it possible to populate your MySQL database tables with random data in a few clicks.
As for MySQL Workbench, automated data generation is absent there. And the consequence of manual data generation might involve significant time loss and risks of slowing the whole process down.
dbForge Studio supports a wide range of MySQL column data types and ensures SQL data integrity. Its functionality enables you to customize data generators, obtain the data preview in real time, schedule routine generation tasks, and much more.
Documenter
Database documentation serves different purposes and remains as critical as ever. Both MySQL Workbench and dbForge Studio for MySQL providers thought it necessary to include this option in the product. The Documenter is a feature that allows you to create documentation and save it in several formats: be it PDF, HTML, or Markdown. It structures all the information so that you can find any item immediately in a document and waste no time.
In comparison with MySQL Workbench, dbForge Studio for MySQL offers additional capabilities that the competitor doesn't provide. For instance, it is a handy option to customize style templates and view inter-object and inter-database dependencies.
What's new
We are also proud to share that the latest version of dbForge Studio for MySQL has undergone significant improvements in the number of supported servers. So, unlike MySQL Workbench, it now supports MySQL Server 5.5-5.7 and MySQL Server 8.0. In addition, you can use dbForge Studio for MySQL to work with MariaDB 10.1-10.5, MariaDB Galera Cluster 10.0 Series, Google Cloud Platform, Alibaba Cloud, Azure MySQL, and Tencent Cloud.
The list of features that we presented in this article is pretty concise. If you would like to compare dbForge Studio for MySQL v9.0 with MySQL Workbench v 8.0.20, please refer to the comprehensive list of differences that we have prepared.
Of course, nothing can replace the first-hand impression and practical experience. If you are looking to size the capabilities of dbForge Studio for MySQL and check if it is the best MySQL Workbench alternative, you should definitely go for it. Moreover, we provide a fully-functional 30-day free trial of our database tools. Also, you can watch this video tutorial:

Latest posts by dbForge Team
(see all)
3 Responses to "dbForge Studio for MySQL vs MySQL Workbench"
Enow B. Mbi Says:
January 25th, 2014 at 9:42 am

Excellent article.You didn't mention platform support – linux or windows or mac os
I'm in support of the issue of code completion in WB – it's horrible to say the least.

Sandy Says:
February 18th, 2014 at 5:25 am

dbForge is a 1000% better then MySQL workbench and worth every penny. The interface and most other aspects are much better suited then the workbench and makes you job a lot easier. dbForge is worth a look at if you spend any amount of time working on MySQL.

Sandy

Bsienn Says:
December 9th, 2016 at 7:28 am

Though dbforge is is superior to mysql workbench, comparing a free tool with the commercial professional version is not fair at all. Compare workbench with the express version then the results will vary.

---