Replace or Rename: that is the question
June 17th, 2009
Forget tedious hours of searching links to the renamed object and replacing them.
To save your efforts, dbForge Studio for MySQL automates renaming of objects:  tables, columns, views, aliases, stored routines, local variables, triggers, events, UDFs, and users and even offers a convenient preview of the changes before applying them.
To rename an object in the script, right-click it and select the Rename option from the menu. The Rename dialog box opens where you can enter a new name and view all references to the renamed object in the expressions, strings, and even comments.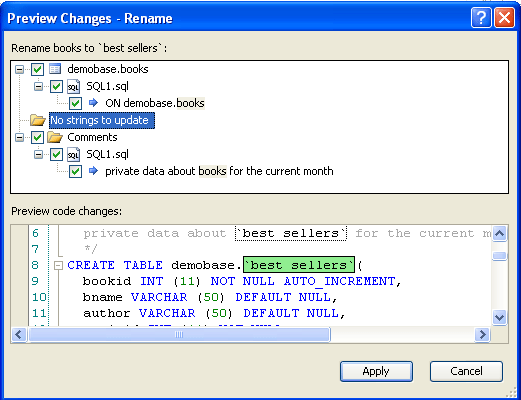 All you have to do is to select required references and press OK!
The refactoring functionality is indispensable while working with database projects. You can export a database to a project, rename objects and references in multiple project files, and synchronize the project with the database.
So "…take arms against a sea of troubles, And by opposing end them…" using automatic renaming!
Enjoy!
Leave a Comment

---