The accolades for our dbForge Studios just keep coming! Today we are immensely proud to announce that we received an array of major awards from the Crozdesk platform.
About dbForge Studios
dbForge Studios comprise premium all-in-one IDEs for database development, management, and administration. They are available for all major database management systems: SQL Server, MySQL, Oracle, and PostgreSQL. Today we are making a boast of recognition that our dbForge Studios for MySQL, Oracle, and PostgreSQL got from Crozdesk.

About Crozdesk
Crozdesk is a reputable search and comparison service that joins software buyers and software vendors. Crozdesk strives to make the search for software products easier through a well-developed system of expert reviews, vendor awards, user recommendations, analyst-grade reports. etc.
Our Crozdesk's Awards
dbForge Studio for MySQL

dbForge Studio for MySQL got three badges from Crozdesk: the Quality Choice award for having outstanding quality compared to other products on the market; the Trusted Vendor award for a high estimated market presence; and the Happiest Users award for its army of delighted customers and high level of user satisfaction.
You can test-drive dbForge Studio for MySQL by downloading a fully functional 30-day trial version from our website.
dbForge Studio for PostgreSQL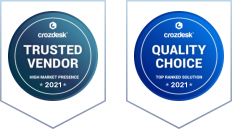 dbForge Studio for PostgreSQL received recognition from Crozdesk too. It enlarged its collection of awards with two badges: the Quality Choice and the Trusted Vendor.
To try out dbForge Studio for PostgreSQL and check all the useful features it delivers, download its trial version from our website.
dbForge Studio for Oracle

And finally, last but not least, dbForge Studio for Oracle has been awarded the Quality Choice, the Happiest Users, and the Trusted Vendor badges.
To evaluate dbForge Studio for Oracle, download it 30-day trial and give it a test drive.
To our users
We, at the dbForge team, would like to take this opportunity to express gratitude to our amazing clients. For us, these awards are significant accolades to achieve and we are truly honored to receive that stamp of appreciation from you. We will continue to seek ways to improve our products to help your business reach its full potential.
Your reviews, votes, and comments on independent platforms are incredibly important to us. If you are using our products, we would really appreciate your feedback about them.