We are excited to announce that dbForge Studio for Oracle won two G2 badges, which further prove how valuable it is to our users. And indeed, the G2 reviewers say that dbForge Studio is so convenient and versatile that they can't imagine working without it.

The badges in question are as follows: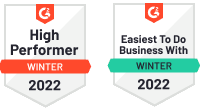 1. Easiest To Do Business With Winter 2022
G2 users recommend dbForge Studio for Oracle to both individual and enterprise users, claiming that the product is worth every dollar because it saves a lot of time and effort in the long run.
2. High Performer Winter 2022
G2 users prefer dbForge Studio over its competitors because of its easy installation, user-friendly interface, fast performance, and the productivity they achieve when working with Oracle databases.
These are just a few advantages mentioned by the users in their reviews of dbForge Studio for Oracle. You can check all of them on the dbForge Studio for Oracle Reviews & Product Details page.
It is a great honor and pride for us to receive such awards. It means that we are moving in the right direction, and we would like to say thank you to every user who takes their time to support us with a review and a positive rating.
A few words about dbForge Studio for Oracle
dbForge Studio for Oracle is a powerful integrated development environment (IDE), which increases PL/SQL coding speed and provides advanced tools for managing in-database and external data. You can try it yourself – simply download it and get a free 30-day trial.