Best Git GUI Clients for Windows
September 3rd, 2021
The importance of rapid but at the same time, efficient software development can not be overestimated. It is the standard of high professionalism that is an absolute must for every successful company. It also means the ability to embrace and implement innovations really quickly. And Git is one of the effective ways to keep up with constantly changing requirements.
Git is a Version Control System (VCS) designed to track and record all changes made to files and code. With its help, you can compare, analyze, and merge changes, commit them to the repository (the storage of your code and code changes), or roll them back and restore the previous versions.
You won't need to worry about making a mistake or losing code. Or, more precisely, of course, you will worry because you are a professional who cares about quality. But if an error happens – you can fix everything immediately.
Git is not the only VCS, but it is, undoubtedly, the most popular one. Since its birth in 2005, it has become the default solution for version control – decentralized, simple, fast, and highly efficient. All developers have the same tools, and the entire development process is much more flexible and transparent.
To work with Git, you can use the functional command-line interface. Git professionals consider this to be the right way. On the other hand, as an alternative, you can use a Git GUI.
The Git GUI client is a tool that allows the developer to work with this version control system in a visual mode. It does not require writing commands manually, offering a convenient graphical interface with the in-built options. This way, one can perform the tasks faster and in a more comfortable manner.
In this article, we are going to review the most popular Git GUI tools for Windows to determine their strong sides and help you pick the right solution for your routines.
Top 10 Git GUI clients
Modern technologies brought us a lot of software solutions to work with Git. Some developers, who aren't satisfied with any of the currently existing Git GUI clients, even start to create their own tools. That's why the variety of available Git client software is already impressive.
In our review, we'll focus on Git GUI tools for Windows, as this OS remains the leading one, occupying almost 73% of the market. We are going to consider the clients developed for Windows OS or cross-platform tools that work on Windows.
Our Git desktop client Top 10:
If you are into Git, you might have already used some particular Git desktop client. Or, at least, heard of some of them. So, let us dive deeper and see what these tools can offer to the developers.
GitHub Desktop
GitHub Desktop is, perhaps, the most famous solution for working with Git in a visual interface. It is familiar to all developers keeping their repositories on GitHub (Git repository hosting service used for version-controlling IT projects). This free Git GUI is open-source, transparent, and functional. When you consider the Git graphical interface for Windows, GitHub Desktop is often the first option to come to mind.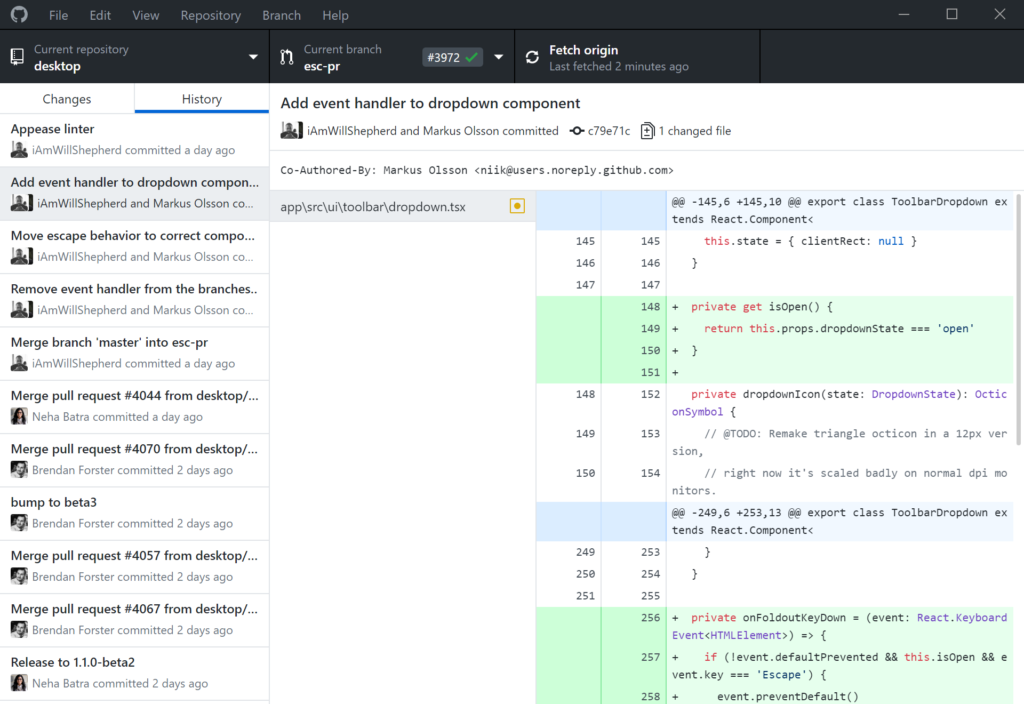 With this solution, you won't need to use the command line and enter commands manually. You only need to log in to your account at GitHub and use this GUI to manage your code in a repository.
With GitHub Desktop you can:
Create new local repositories easily
Track all changes and their authors visually
Collaborate with other developers
Checkout branches with ease
Code safely with syntax highlighting
and much more.
GitHub Desktop is supported by a vast community of developers. They work continually to make both Git and this free Git client Windows better for every user.
GitKraken
GitKraken is one of the best-known Git GUI tools for Windows, Linux, and Mac. Specialists favor this software for its reliability and efficiency, and its stylish interface also helped this solution become so popular. It simplifies all the basic tasks, making it possible to perform the necessary actions and fix errors with one click.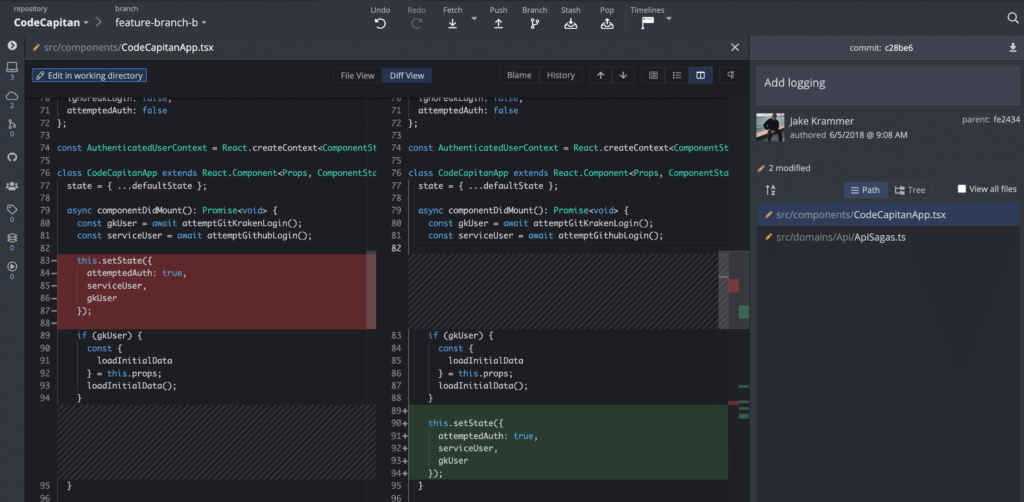 It boasts an embedded editor where you can edit the existing code. You can also start new projects without leaving this Git desktop client. Syncing tasks are possible in real-time, and a lot of organization features make it ideal for teamwork.
GitKraken is a free Git client Windows provided you use it for non-commercial purposes. There are also advanced, paid versions – Pro and Enterprise.
GitKraken offers:
Syntax Highlighting
Drag and drop functionality
Tracking all issues
Support for Gitflow and Git Hooks
Integration with repository hosting services
and much more.
GitKraken is one of the most functional and convenient Git UI tools, loved by millions of Git specialists worldwide.
Sourcetree
Sourcetree is another famous software solution that provides Git graphical interface for Windows and Mac. The free Git client software allows you to connect to your repositories in GitHub, Bitbucket, Stash, or Microsoft TFS.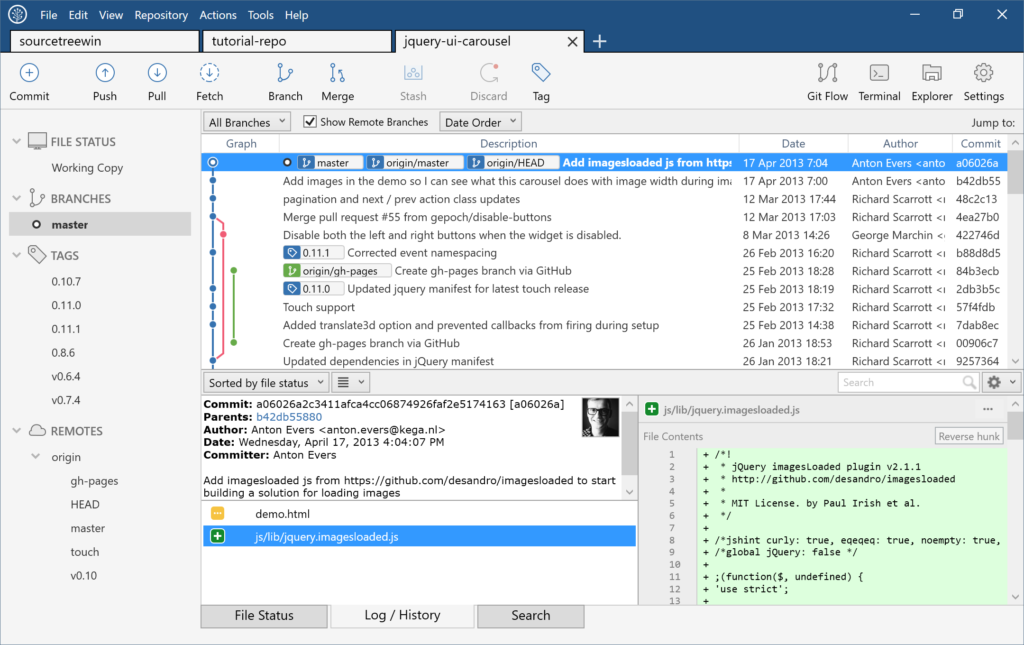 Developed by the Atlassian company, the tool aims to make the life of Git specialists easier. It is simple and user-friendly, with transparent navigation and a bunch of useful features.
You can easily perform all the necessary Git-related tasks, such as cloning repositories (including the remote ones), pushing, pulling, committing, and merging changes. Both experienced users and beginners can work successfully with Sourcetree, tracking all changes, actions, and actors.
More features of Sourcetree:
Support for large Git files
Detailed branching diagrams
Reviewing all the changes (both outgoing and incoming)
Easy maneuvering between branches
Full support for Git-flow and Hg-flow
etc.
The tool is bound to keep your repos cleaner and your development more productive.
Tortoise Git
Tortoise Git is a dedicated solution for working with Git on Windows. It is, in essence, a Windows shell interface. A free Git GUI of an open-source nature allows any team to adjust the functionality or even build a personal Tortoise Git version for specific needs. It can work with any file and does not depend on any IDE.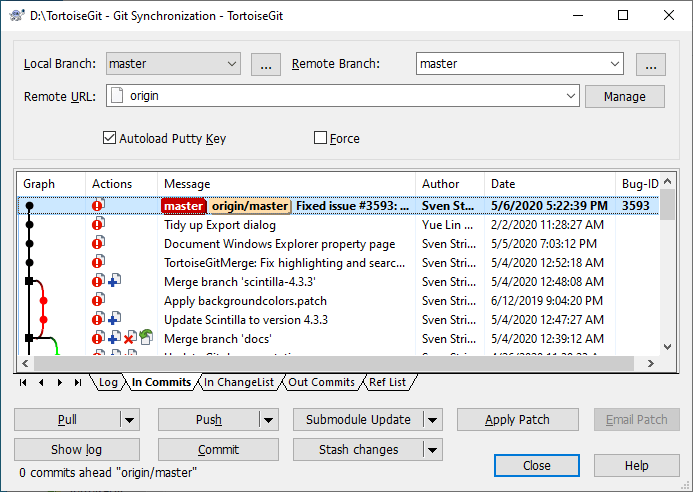 Git professionals use Tortoise Git to quickly perform all the standard tasks, such as cloning repositories, creating branches, handling changes, viewing logs, etc. A helpful feature is an integration with Windows Explorer – you can perform the necessary jobs in a familiar and convenient environment.
More features of Tortoise Git
Autocompletion of keywords and paths
High efficiency with large projects in non-linear development
Easy handling of branches and tags
Cryptographic authentication of history
Ability to handle multiple tasks in teamwork
etc.
The popularity of Tortoise Git is worldwide. There are 30 different language versions to make the software development jobs faster and more straightforward for developers from various countries.
SmartGit
SmartGit is another functional cross-platform Git client software. It works smoothly on Windows, Mac, and Linux. For many specialists, SmartGit is the easiest Git client.
The SmartGit free Git GUI allows users to perform all the tasks required to work with their repositories. It provides the possibility to view and edit files side-by-side and allows resolving merge conflicts automatically. With Git-Flow support, you can configure branches directly in the tool. There is no need to use any additional software.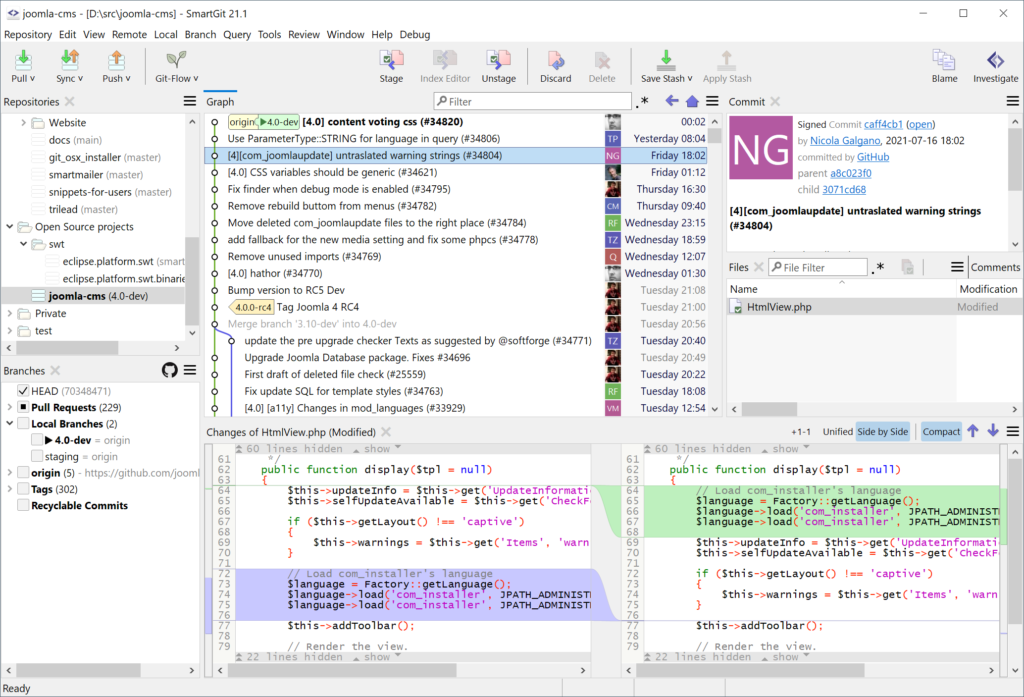 Features of SmartGit:
An in-built SSH client
Commit history in a visual mode
The Conflict Solver feature for fixing issues when merging files
The single-view Log window to view commands, index, and working tree at once
Commit Debugger for verifying any commit if necessary
and many more.
SmarGit has both free and paid versions with more robust functionality and additional integration features. The easiness of use made this tool favored by many developers. It offers great functionality that is improved continually.
GitForce
GitForce is a popular Git GUI alternative to the command-line. It is a cross-platform solution, running on Linux (including Ubuntu) and Windows. The tool is simple, smart, and efficient. However, since the overall functionality of Git is versatile, and there are too many options, this Git client software doesn't cover everything. But it provides a straightforward way to perform the most common commands in a graphical interface. Besides, it is a free Git GUI, available to everyone.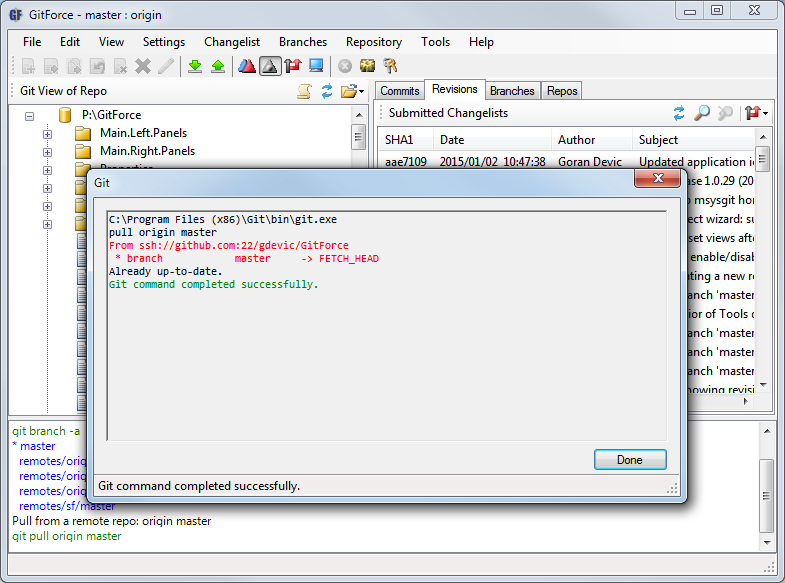 Among the many helpful features of GitForce, you may note multiple repositories support, the possibility to scan local repositories, drag-and-drop functionality, access to history, etc.
More features of GitForce:
No need to install the software – get the single file and execute it
Create and handle multiple repositories and branches
A clean and intuitive GUI
Manage SSH keys easily
Embedded command-line interface with the ability to pick the commands executed from CLI
etc.
Despite some functional limitations, GitForce is a very efficient free Git client Windows. It is suitable for both beginners and experienced Git users. The most valuable benefit is that it can significantly reduce the need to use the command line to a minimum (or even eliminate it).
Git Cola
Git Cola is a free open-source Git desktop client. Initially developed for Linux, it also runs smoothly on Windows, offering numerous efficient features in a customizable interface. There is a variety of tools at your service – and it is possible to rearrange them for your convenience and hide those that aren't actual.
Git Cola allows its users to carry out all the necessary routines. The tool compares commits, searches for data by message, author, filename, etc., and edits git indexes. It also ensures proper execution of all necessary Git-related commands in a visual mode. An interface with several panes allows you to view different project aspects and track activities.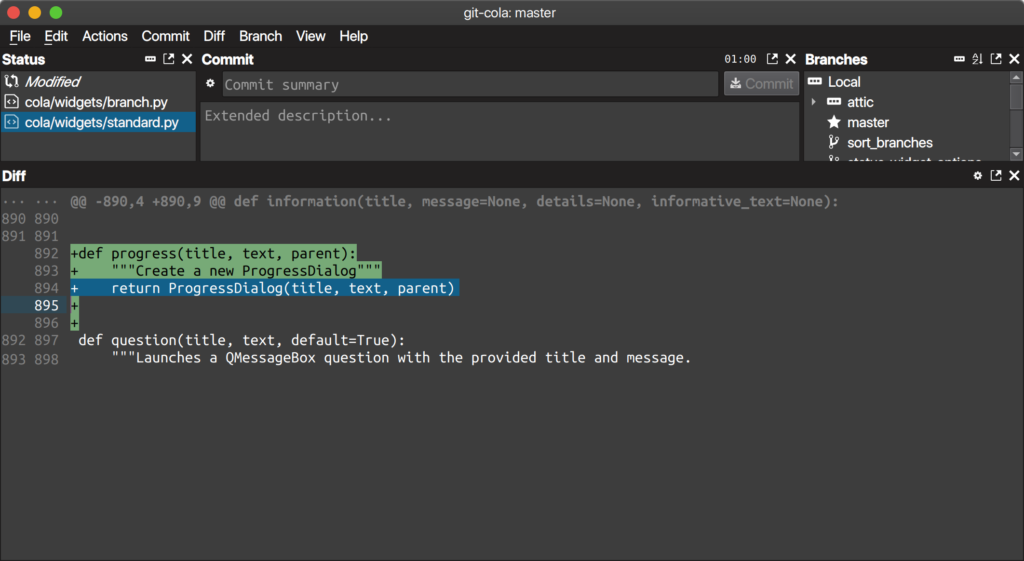 More features of Git Cola
A dedicated Git-Dag visualizer for branches and commands
The Commit Message editor
Keyboard shortcuts to accelerate the task performance
Remember the layout modifications and restore them on the next launch
Cool dark mode and stylish custom themes for the Window Manager
etc.
Git Cola is one of the most loved Git GUI tools for Windows that is highly useful for Git specialists of all levels.
Aurees
Aurees is a free Git client that is Windows, Mac, and Linux-suitable. It has an account at GitHub, and users should log into that account to use the client. The primary purpose of the tool was editing and publishing Git files with ease. Colored tags simplify the navigation through the Git GUI remote repository.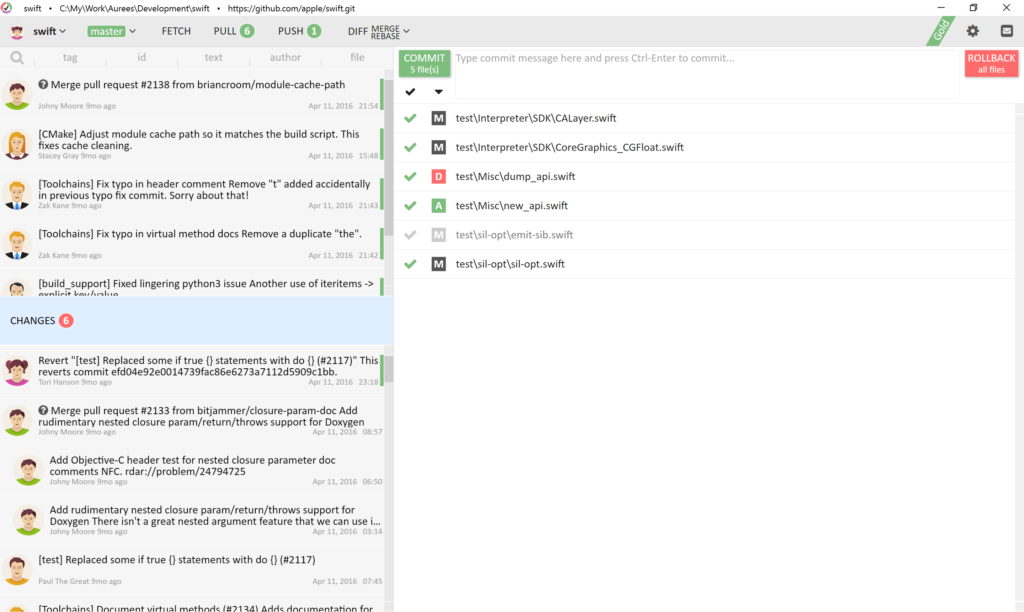 Like other Git GUI tools for Windows, Aurees allows the user to examine all changes, IDs, tags, and authors who implemented those changes. With the tool, you can easily detect and analyze differences between different data, handle branches, and revert the changes to the previous working copy.
More features of Aurees
Sleek and user-friendly interface
View the commit and merge data in side-by-side windows to quickly identify and resolve any issues
Check differences in the advanced built-in editor
etc.
This is a powerful free Git GUI alternative to a command-line interface that copes well with the majority of Git jobs. Many developers favor the tool, no matter which OS environment they prefer.
Magit
Magit is not a separate Git desktop client – it is a free plugin with an original text-based interface. It is implemented as a GNU Emacs package to use on Windows, Mac, and Linux. The plugin allows the developers to perform the necessary version control tasks directly in the Emacs window.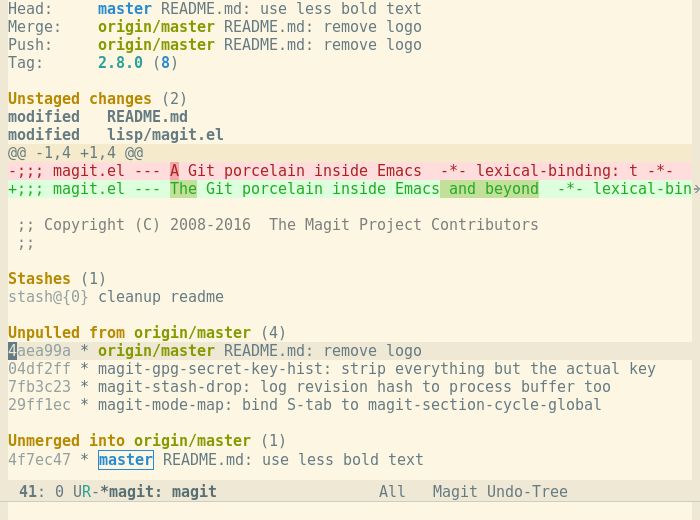 This solution is very effective for high-level Git commands. It adjusts the outputs for reading by human operators.
More features of Magit
The possibility to clone repositories locally and pulling changes
The option to create, merge and rebase branches
Compiling commits and pushing them to the repository
Examining the commit history
Compiling and executing patches
Adding notes and tags
etc.
The functionality lacks some specific options. Still, in general, Magit lets the Git specialists do all their daily jobs from within Emacs.
Fork
Fork is a relatively young, simple, and fast Git client for Windows and Mac. The software is available free of charge, but there is also a paid version with more options.
The distinctive feature of the tool is a tab-based interface that makes the navigation and other organization activities much faster. You can open the websites or applications which you work on directly in Fork. This way, you track your repository-related job results better.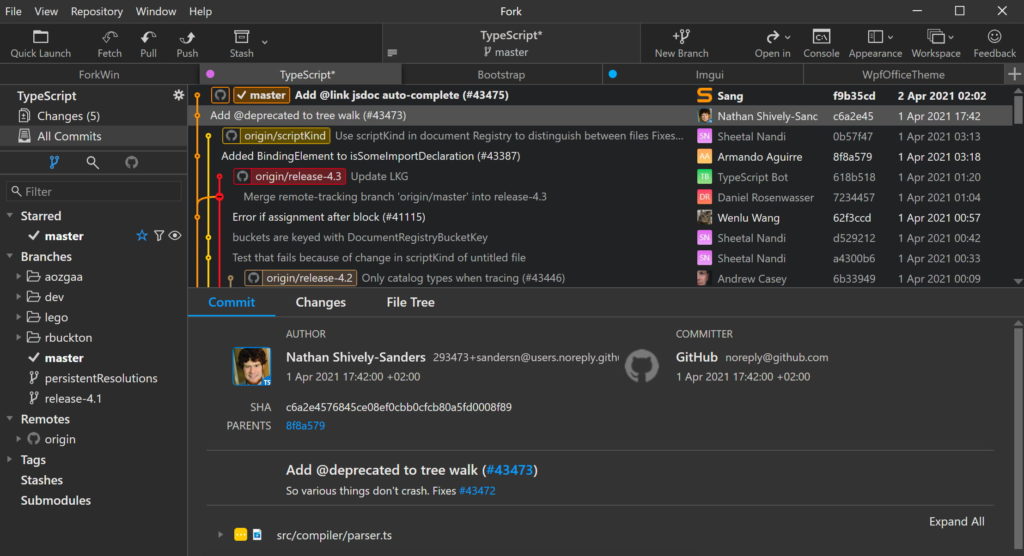 More features of Fork
An advanced view for examining and analyzing differences
A dedicated repository manager
A comprehensive file-tree structure of the repository
Creating and deleting remote repositories
All major Git commands are supported
etc.
Magit is one of the newer solutions, and its functionality is continually enhanced. It reacts to all new challenges fast, and thus delivers all the necessary Git desktop client features.
dbForge Source Control–a Git GUI plugin for SSMS
For those software developers who prefer working with databases using SSMS, Devart has created a specialized solution that enhances SSMS-dbForge Source Control. The add-in is compatible with all popular version controls systems, such as Gitgit and Git-based systems, Mercurial, Perforce, Azure DevOps Server, etc. Implementing this Git GUI alternative developers can accelerate the professional routines significantly and eliminate the human mistake factor.
More features of SQL Source Control 
Version-controlling database schemas and static table data
Dedicated and Shared modes
Support for all main version control operations
Monitoring all changes, their authors, and causes
Tracking and resolving conflicts and inconsistencies
Automating the database development routines using the DevOps approach
etc.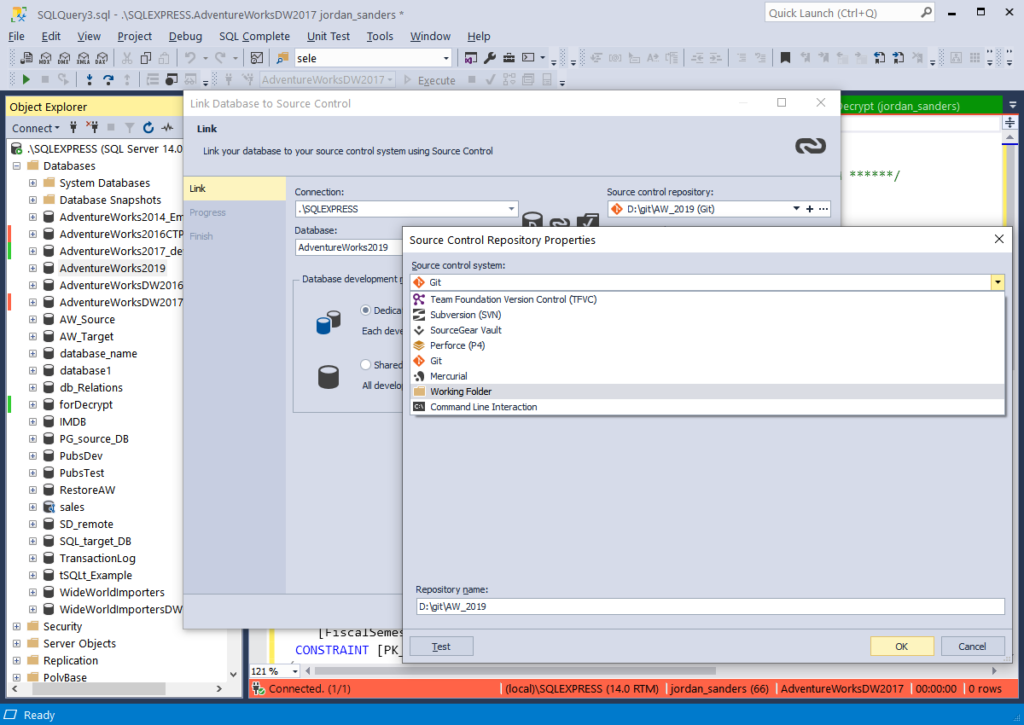 In case you are the one who favors having all the necessary options to run your software development routines smoothly in SSMS, Devart has cared about it. dbForge Source Control would suit your purposes by adding the required functionality to your favorite IDE.
Conclusion
The variety of Git GUI tools for Windows allows the developer to find suitable software with no hassle. Even those experienced specialists who know each slightest trick of the command-line interface also often switch to some Git desktop client. The graphic user interface adds to the speed of work and makes the code delivery better-polished and error-free. Choosing the Git client is a matter of personal preferences. The key is, there is always the right tool to pick up.
Download a free trial of dbForge Source Control and embrace version control and collaboration practices in your projects.
Latest posts by dbForge Team
(see all)

---