It didn't take long since the dbForge Studio product line received its latest award — and now we've got a new one to tell you about. Our all-in-one development IDEs for the most popular types of databases — MySQL and SQL Server — were awarded by SoftwareWorld, a review platform that helps businesses of various industries find optimal software solutions, providing unbiased lists of top products by category.

Top Rated Backup Software of 2021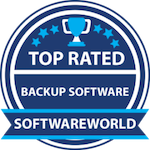 One of these lists, Top Rated Backup Software of 2021, included dbForge Studio among the Top 5 competitors. It is yet another achievement that we owe to the positive reviews of our users (by the way, this list is also based on reviews aggregated from other independent reviewing platforms). Now we would love to say a big thank you to SoftwareWorld and to each and every user who became part of this recognition.
About dbForge Studio
dbForge Studio is a multifunctional IDE for database development, management, and administration — and its backup and restore functionality is only a small part of what it has to offer. The Studio comprises tools for database design, work with SQL queries, comparison of database schemas and data, database object management, generation of realistic test data and database documentation, data analysis, reporting, and CLI-based automation. dbForge Studio was designed to empower users and help them speed up and streamline their daily routine.
You can learn more about the results achieved by actual businesses from our success stories; or you can simply get a 30-day free trial of the required Studio on our website and evaluate it yourself.