For the second year in a row, readers of DBTA — a magazine focusing on data, information management, and analytics — choose Devart products as winners among the world's top solutions for database development, management, and administration.
Today, our winner is Devart dotConnect with its enhanced ORM-enabled ADO.NET data providers — a world-class solution that ensures high-performance access to databases and clouds.
Additionally, dotConnect goes beyond ordinary providers and offers a visual ORM designer (the best one on the market), support for Entity Framework and Entity Framework Core, and advanced SQL support for clouds. The readers chose it as the Best Data Integration Solution.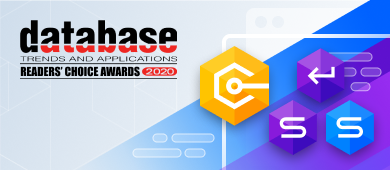 That wasn't the only Devart solution to win the recognition of DBTA readers. We've got four more finalists in the following nominations:
• Best Data Modeling Solution: dbForge Studio for MySQL
• Best Database Development Solution: dbForge SQL Complete
• Best Database Backup Solution: dbForge for SQL Server
• Best DBA Solution: dbForge SQL Complete
We are thankful to our users for this support. It inspires us to be the best for you.
For those who would like to get acquainted with our solutions: you can easily download a free 30-day trial of any tool we offer. Check the capabilities, and if you like them — and we are sure you will — you can purchase the product with a perpetual license.