Here comes the fourth major version of dbForge Data Compare for PostgreSQL, and it packs a bunch of new features and helpful enhancements. From CrossOver-powered support for Linux and macOS to new data comparison options, from the well-enhanced Text Editor to support for high-DPI devices—let's see what we've got for you in this release!

Support for Linux and macOS
We'd love to begin with the newly provided Linux and macOS support, which gradually makes its way to the entirety of the dbForge product line. Now you can run dbForge Data Compare for PostgreSQL on these platforms using a specialized compatibility solution called CrossOver, which was developed by CodeWeavers to help Linux and Mac users run Windows apps on their machines without any trouble. The simplest way to describe how it works is as follows:
Install CrossOver on your Mac or Linux machine. It will work as a regular native application.
Launch CrossOver and configure a special container (bottle) with the proper environment for dbForge Data Compare.
Install dbForge Data Compare into the bottle and run it – that's all!
This is how it looks on macOS.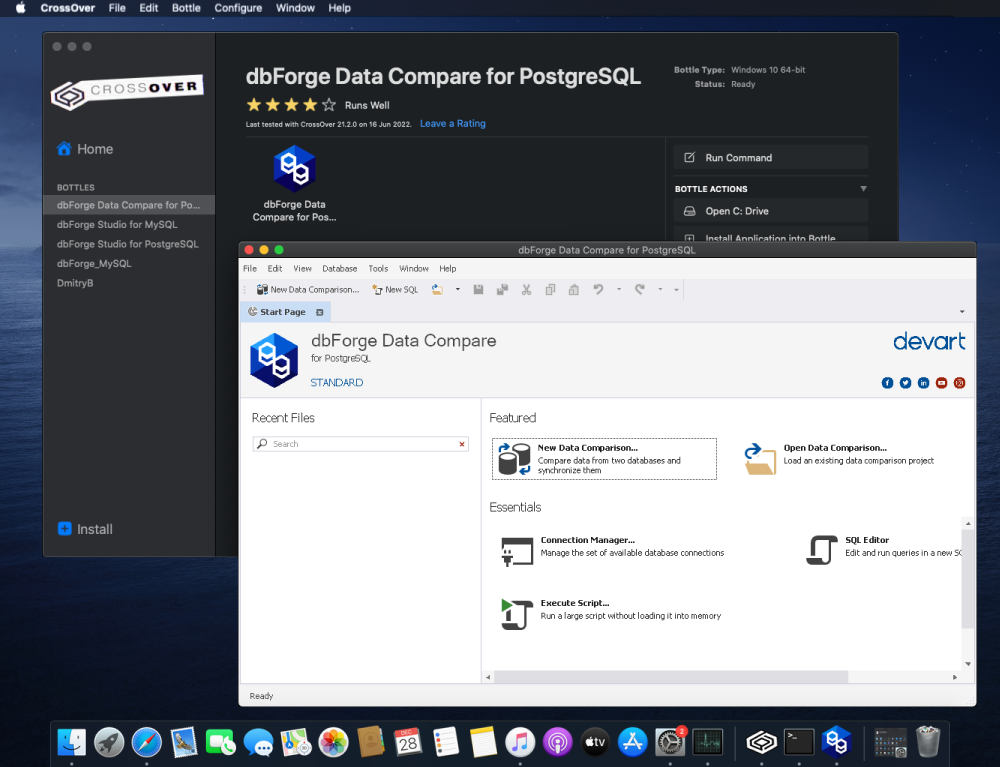 And this is how it looks on Linux.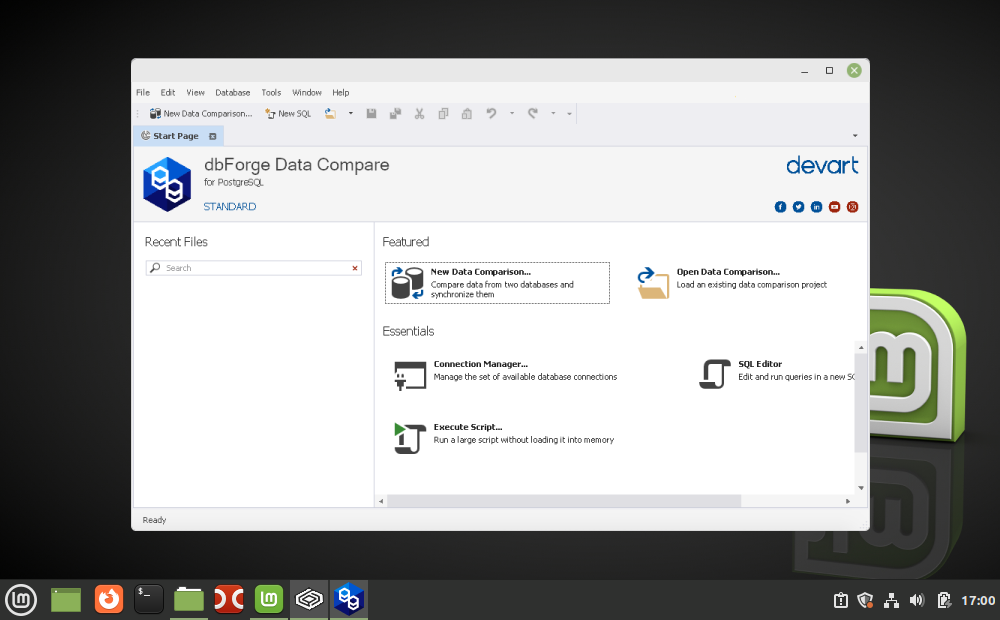 New features and options for data comparison
We've made Data Compare far more versatile with this release—and now it's all yours to explore and configure. For instance, we've added an option to select databases in the comparison wizard, copy source settings to the target database, and copy target settings to the source database.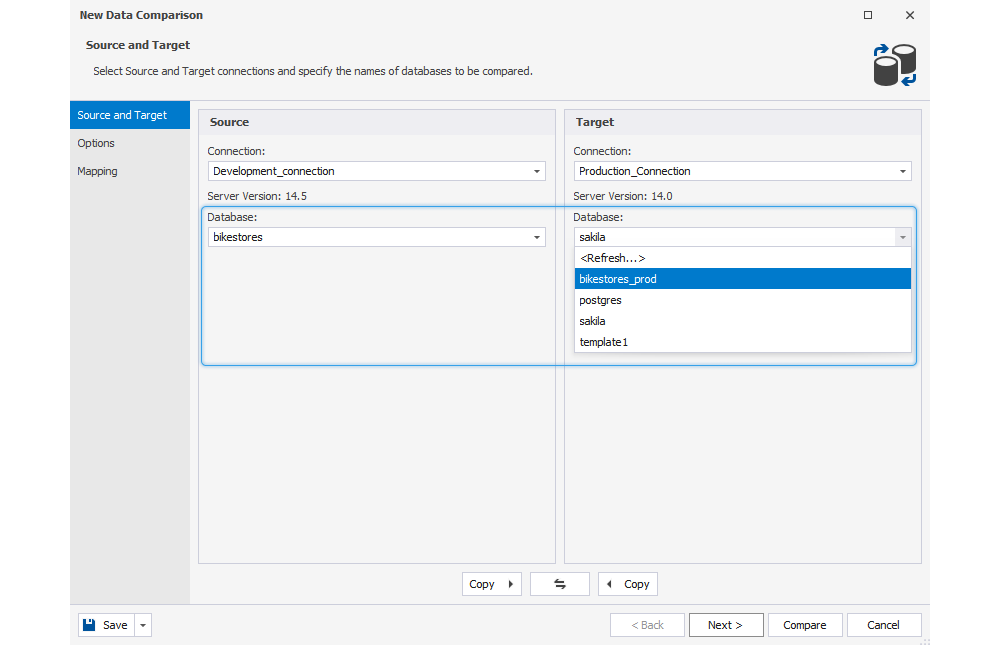 Another introduced option is Ignore computed columns. When enabled, it excludes computed columns from comparison.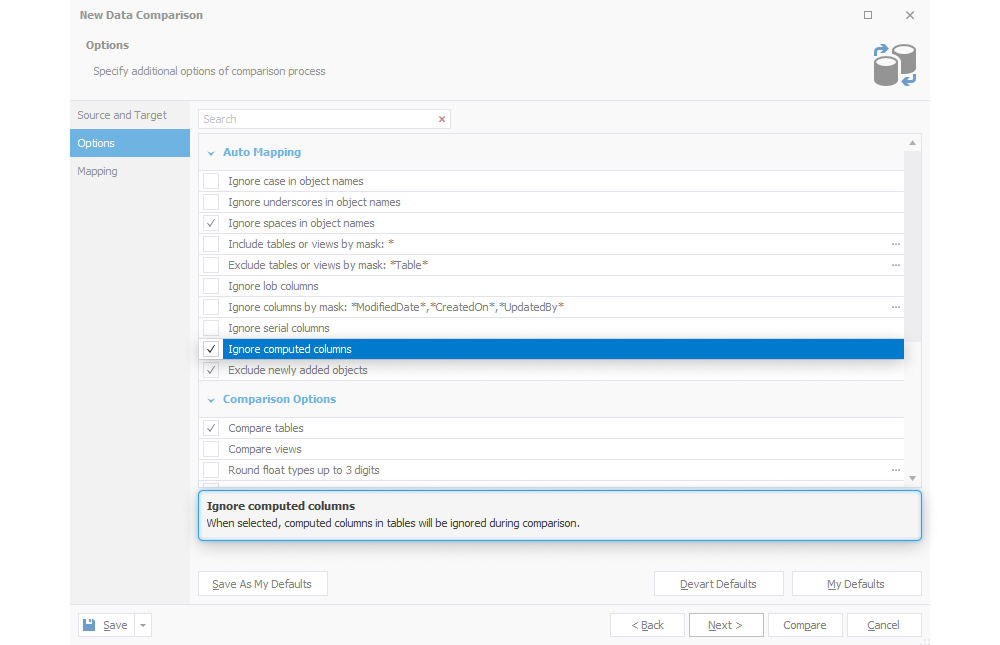 Next, there's an option called Exclude newly added objects. When enabled, it excludes tables, views, and materialized views from a configured comparison project if it contains no mapping information about them (which, most likely, means they were added after the creation and setup of the project).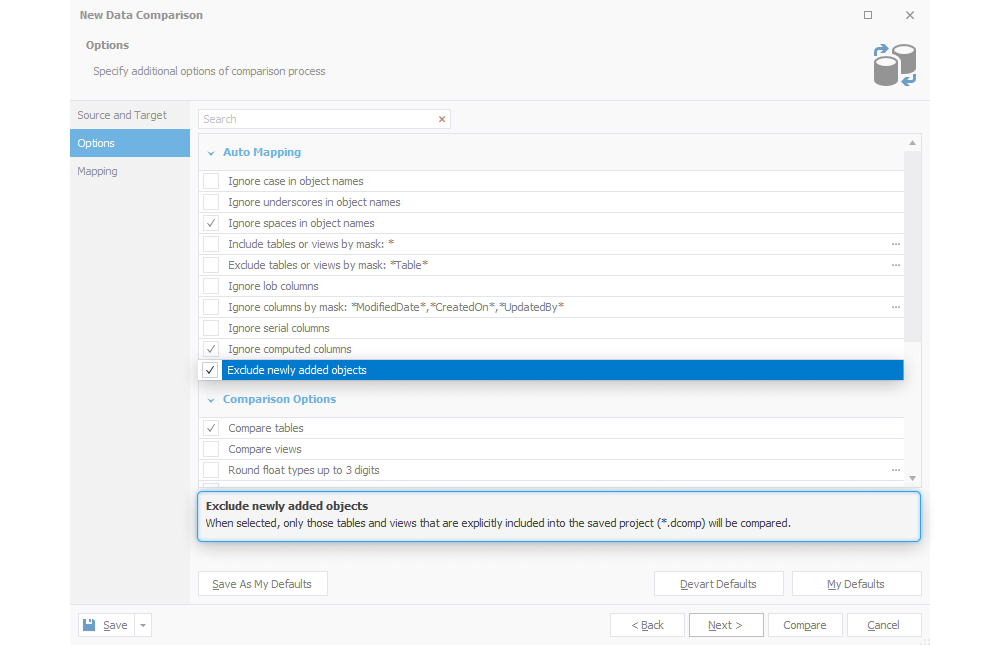 The Ignore internal spaces option, when enabled, allows you to compare string data types ignoring whitespaces located within a line.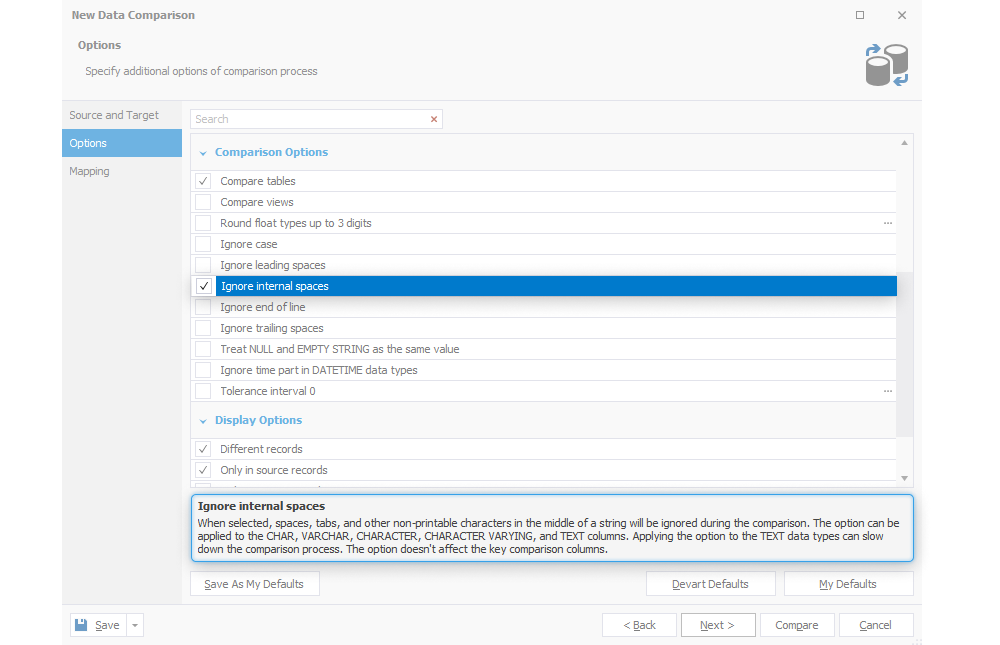 One more feature, called Tolerance interval, allows enabling and specifying a tolerance range when comparing numeric data types such as smallint, integer, bigint, decimal, real, and double precision.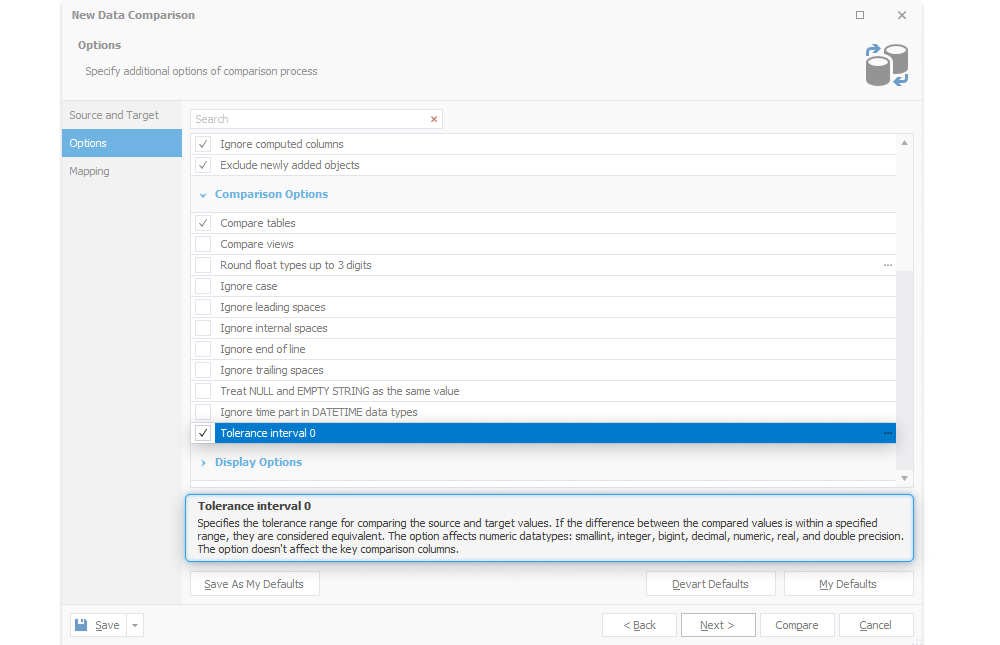 Our next stop is an option called Hide Empty Columns, which hides columns that contain no data on the Only In Source and Only In Target tabs.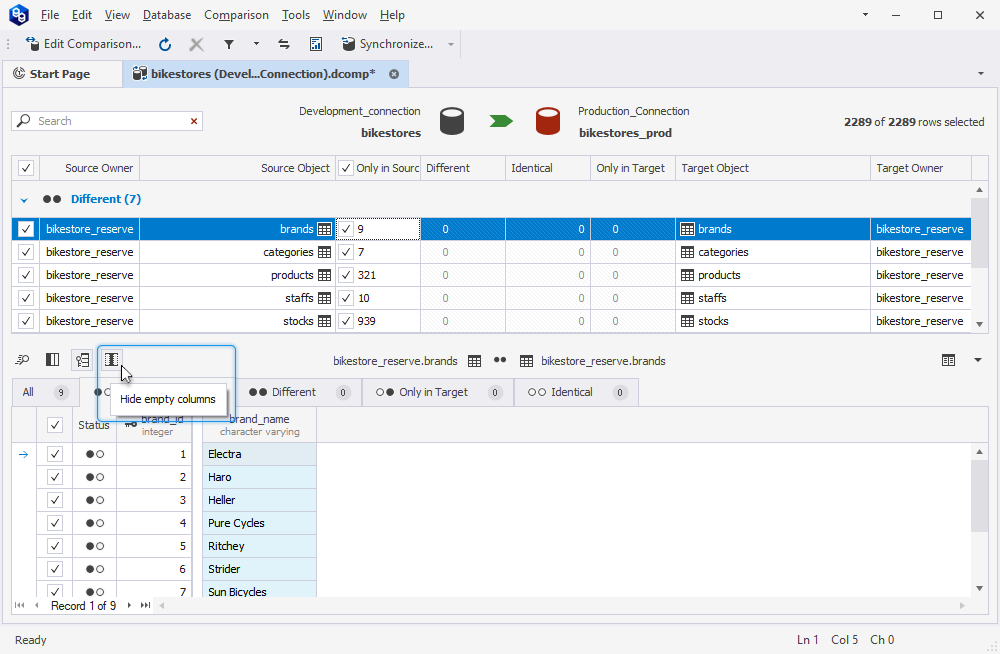 Finally, we've enhanced the synchronization wizard with a page called Issues. With its help, you can configure the handling of potential issues by specifying default values.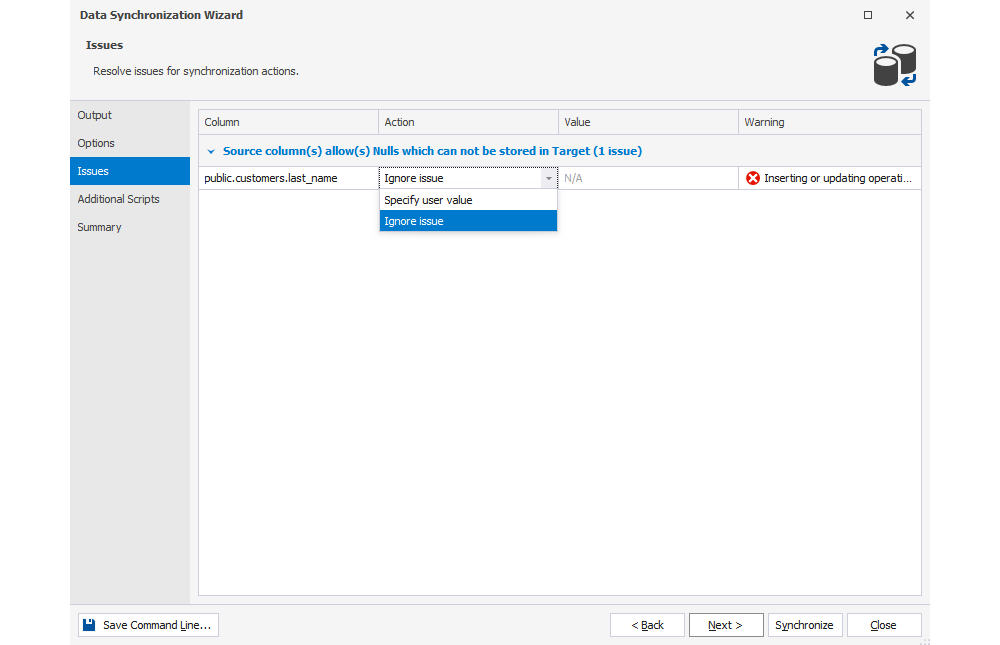 Text Editor enhancements
For your convenience, we've brought a few updates to Text Editor. Here's the first one: if you press Ctrl+C or Ctrl+X on a line without highlighting any particular text, the entire line will be copied or cut, respectively. Afterwards, you can paste it wherever you need by pressing Ctrl+V.

The second one is triple click – use it to select the entire line in Text Editor.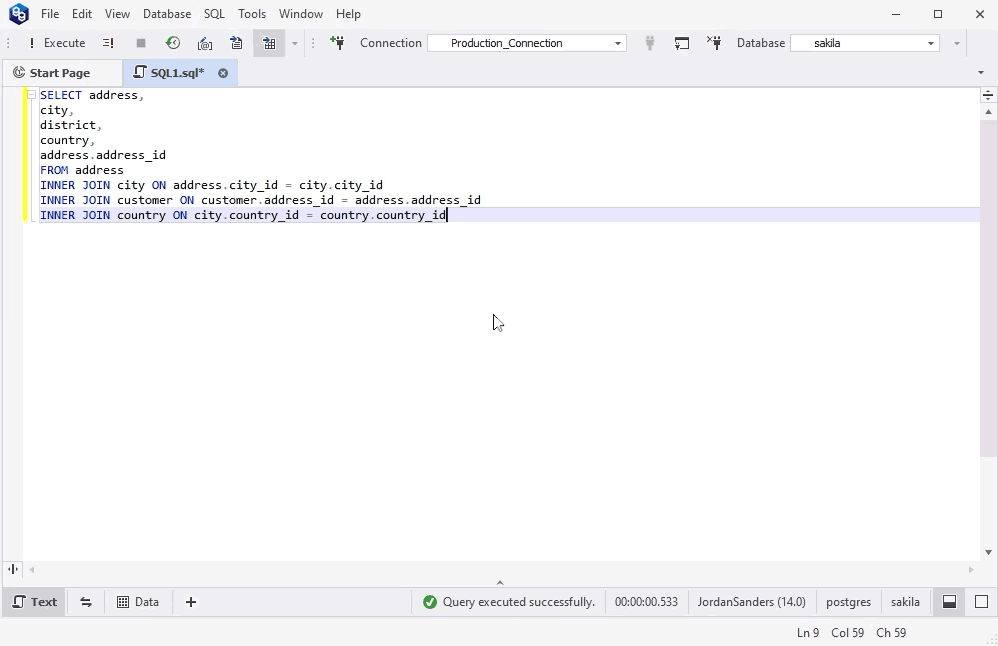 Finally, we've implemented the display of RAISE [ NOTICE | WARNING | INFO ] in Error List & Output messages.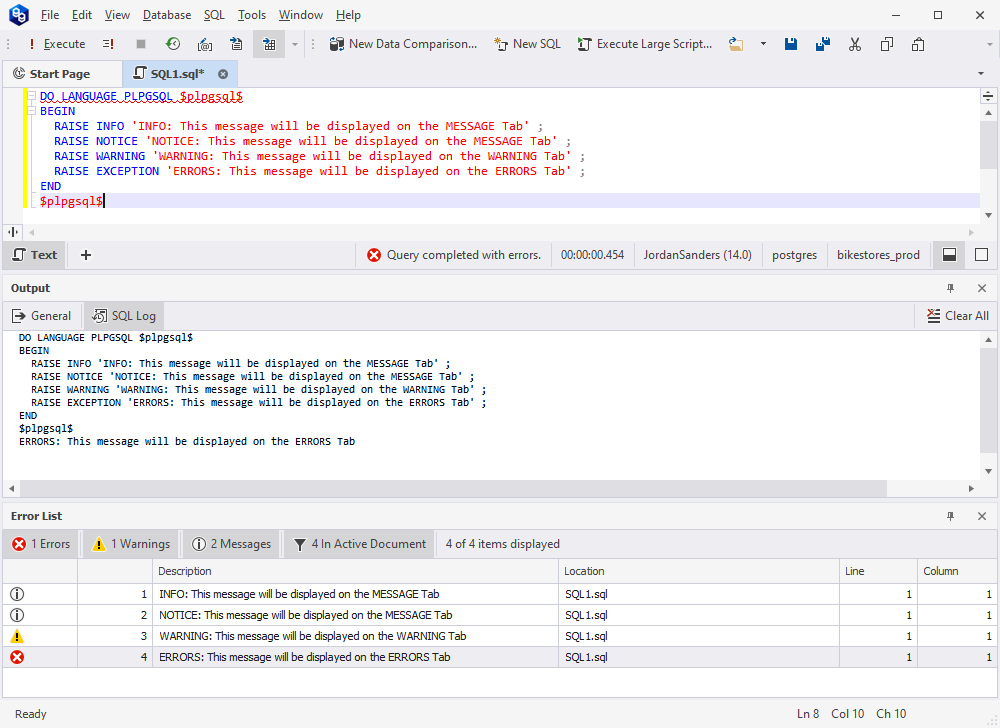 Extended support for high-DPI devices
If you are a user of high-DPI devices, you can rest assured that your experience with the new version of Data Compare will be smooth and trouble-free.
Get dbForge Data Compare for a free 30-day trial today!
There's nothing quite like trying all of these features yourself, so feel free to download dbForge Data Compare for PostgreSQL v4.0 for a hefty month-long free trial. We bet you'll enjoy the ride!